Gut Biome Booster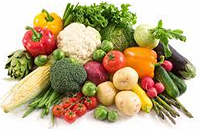 This is an easy way to eat food-based antioxidants, vitamins, minerals, enzymes, and most important of all…a big variety of soluble and insoluble fiber, critical for nourishing your gut and producing short chain fatty acids. Fresh veggies and some herbs contain fibers our good bacteria require for a rich, diverse gut biome, which means better health.
RECIPE:
Use a high-speed, heavy duty blender (Vitamix, Ninja, or Nutribullet work best!)
Finely chop 6-10 different fresh, organic, raw veggies & herbs of your choice. Mix in a large bowl. Put in large Ziploc bags, store in refrigerator. Makes 7-10 day's worth.
Add 1 large handful of the veggie mix and 2-3 oz. of water or coconut water. Note: add more liquid if it's too thick. Remember, this is a drink mix, not apple sauce.
Blend on high until well blended without any chunks. Do not juice this mixture.
This is a fresh, living-food drink, so making it daily is best.

TIPS:
1) Optional: add 1 serving of a fresh fruit to cut bitterness (berries, apples, pears, or citrus).
2) Digestive concerns? Make a smaller batch, add some orange peel zest or a chopped 1" piece of ginger. Your beneficially gut flora can change, so some gas may be normal initially.
3) Mix it up! Change your veggies/herbs periodically to improve the gut biome. Add those you rarely or never eat! Eat less of the ones you always eat!
4) Good veggie and herb choices: carrot (with tops), celery, cucumber, cherry tomato, beets, bell pepper, scallions, fennel root, celery root, daikon radish, burdock root, parsnips, kale, spinach, romaine, arugula, parsley, cilantro, dill, basil, radicchio, kohlrabi, chard, rosemary, turnip, rhubarb, dandelion, leek, thyme, and jicama. Avoid known allergens.
5) Drink the mix at any time during the day that works for your schedule.
6) Did you make too much? Store in the freezer! Squeeze out all the air in the Ziploc bag.
7) The Gut Biome Boost is best suited for a lifetime of good health, and especially the first few months of any health program for a jump start.