Parsley-Lemon Drink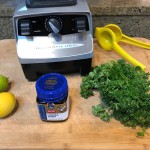 This tasty drink is incredible for your kidneys, liver, immune, and lymph systems. Best of all it takes less than 2 minutes to make. Enjoy!
1 bunch of fresh parsley
2 whole lemons (or limes), juiced
1 teaspoon raw honey*
4-6 cups filtered water
Blend on high with a Vitamix, Nutribullet, or any powerful blender for 30-60 seconds
Quick Tips! – 1) Use organic whenever possible 2) You can use warm water in colder seasons, or add ice in warm seasons 3) Safe for long-term consumption. Drink at any time or place in a thermos and sip throughout the day. 4) For an even milder flavor, try using only 1/2 bunch of parsley 5) *Raw honey is very healing. However, if you're diabetic or have blood sugar problems, leave out honey and substitute 10 drops of organic stevia. Don't use raw honey if under age 2.
NOTE: Manuka honey has powerful medicinal properties. Look for a high MGO number, such as 400 (my favorite), found on our web Virtual Pharmacy at HealthQuestForMe.com (product search code: MK106).
These statements have not been evaluated by the FDA and are not intended to diagnose, treat, cure, or prevent any condition. If you are taking Coumadin or warfarin medication, talk to your physician before eating extra greens.